Hoildays in Algund
The idyllic village Algund is situated right next to the city of Meran in the western part of South Tyrol, embedded by endless green vineyards and fruit orchards. Due to very mild winters and hot summers, apples and grapes flourish here very well and due to the mild climate, you can also go hiking the whole year round.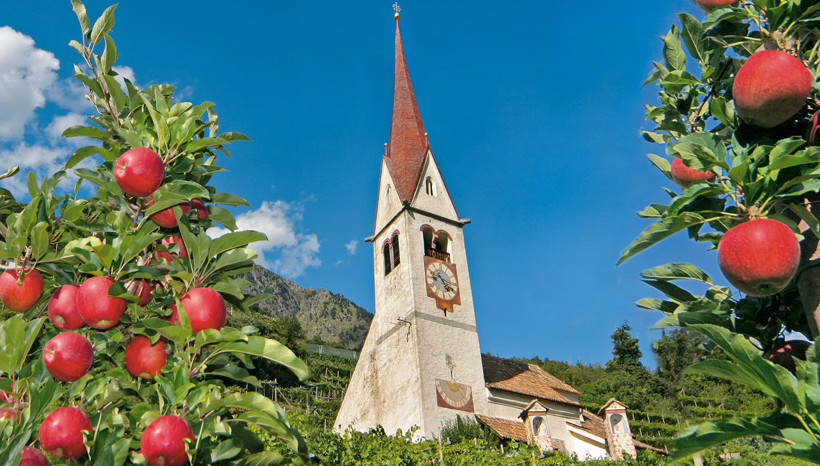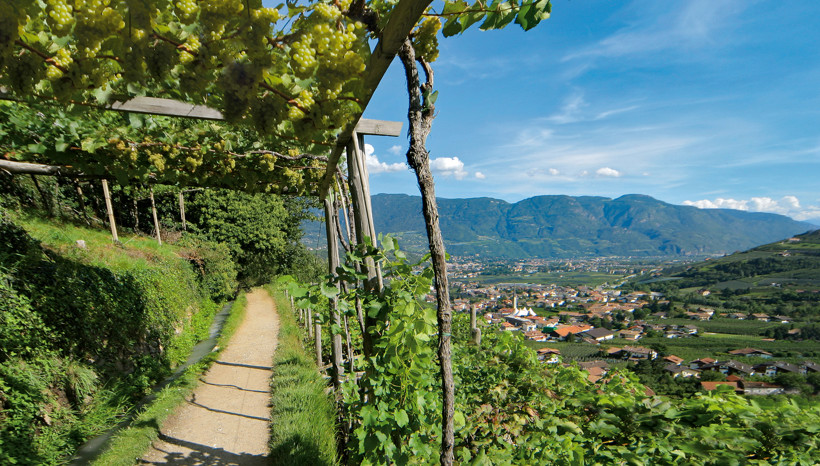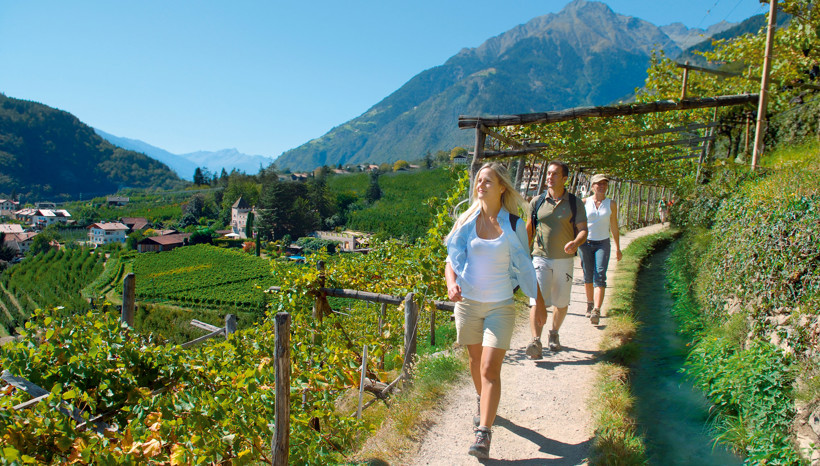 Thanks to 300 sunny days per year and the highest temperatures in this area, Algund is a real holiday paradise. Already in March, spring begins with a colourful sea of flowering fruit orchards and the warm sun rays invite to be active in the fresh air. Wonderful hiking paths ranging between 300 and 3,000 m of altitude offer varied hiking fun: From easy walks along old irrigation channels to challenging mountain tours in higher altitudes.
But there are even more reasons why to visit Algund: For example, because there is the oldest brewery of South Tyrol – the Forst Brewery. Still today, the Forst beer is the most popular lager with South Tyroleans. During a visit in the brewery, you can learn more about the refreshing drink and maybe get to know some secrets about the brewing art.
City or mountains? Algund offers both!
This is why Algund is that much fascinating: There is not just a lot to discover in the village itself – such as for instance the modern new parish church that is a much-celebrated attraction of architecture. From here you can also easy reach the city of Meran as well as the Alpine summits at an altitude of 1,500. With the Vellau chairlift and the Leiter Alm basket lift, you can go to the lofty heights of Texel Group Nature Park, offering some of the most beautiful mountain lakes in South Tyrol. From there, you also access the Meran high alpine route, that is with 80 km one of the most impressive circular tours of the Alps.
Mediterranean lightness meets Alpine tradition
The Mediterranean vegetation with palms, cypresses, figs, kiwis and almonds guarantees a southern flair and offers a delightful contrast to the traditional apple orchards and vineyards that are characteristic for the landscape surrounding Algund. Fruit cultivation is the most important economic sector in Algund and has been operated with pride since generations. Also, the Mediterranean influence is visible in the restaurants. The mountain huts, farm taverns and gourmet restaurants do not only serve traditional specialities, but refined dishes of the Italian cuisine too.