Holidays in Burgstall
Burgstall is located at 270 m of altitude on the shores or river Etsch, south of Meran. In the 13the century already, the village was mentioned in document for the first time.
The village of Burgstall is located between a nature reserve and apple orchards and is separated from the neighbouring village of Lana by river Etsch. Thanks to its strategically favourable position, Burgstall is an ideal starting point for excursions. The capital Bozen can be reached within 15 minutes, the city of Meran within 10 minutes by car.
The long history of Burgstall is witness mainly by the remnants of the eponymous castle that has given the village its name. The castle was once built by Earl Volkmar of Burgstall. Today, only a few parts of the circular wall are left.
Worthwhile as well is the Burgstaller Auen biotope, that has remained after the drying of the valley bottom, Heilig Kreuz church and the Animal Museum displaying rare animals and more than 300 native bird species.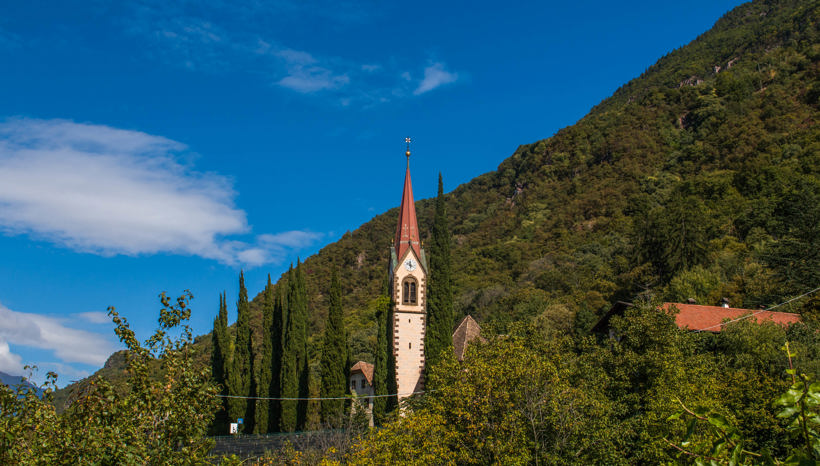 Paradise for cyclists & hikers
The mild, Mediterranean climate guarantees a long hiking and bike season. Starting in Burgstall, you can make magnificent hikes, bike tours and walks – through Etschtal Valley, Passeiertal or Vinschgau.
The cableway connecting Burgstall and Vöran brings you to Mt. Tschögglberg with Meran 2000 hiking area and Salten. In loft heights, between spare larch forests, hikers and cyclists will feel like in paradise during the hot summer months.
The family -friendly Etschtal cycle path is perfect for extensive excursions by bike to Bozen, Meran or Southern South Tyrol – the way back can be done by train.
On an about 4 km long exercise trail, winding across the forest near Burgstall, you can improve your fitness.
Spend unforgettable beautiful days in Burgstall – the best address for nature holidays with the whole family!