Holidays in Riffian
If you like pleasant, calm and dreamy holidays, Riffian at the entrance of Passeiertal Valley will be the right place for you.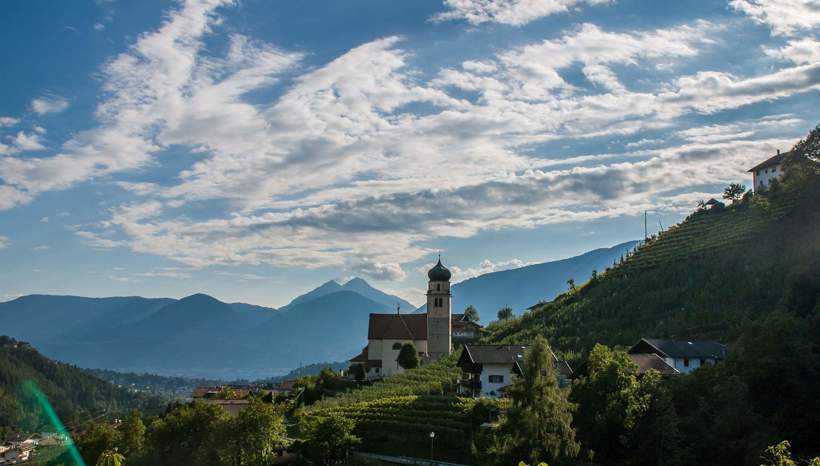 Far away from mass tourism and from the hustle and bustle of everyday life right next to the poplar spa town, you can enjoy the beauty of South Tyrolean nature in Riffian.
The village is located only about 5 km from Meran, on a sunny terrace in the anterior Passeiertal Valley at 504 m of altitude. The Mediterranean atmosphere of Meran and surroundings and the rustic-Alpine charm of Passeiertal meet right here.
The history of this small village dates back to the Middle Ages. At that time already, Riffian and Our Lady of Sorrows church had been popular pilgrimage sites. Other sights, for instance, are the prehistoric settlement of Burgstall near Riffian as well as the earth pyramids and small Tractor Museum at Ungerichthof farm in Kuens.
Hiking paradise Riffian
Thanks to the mild climate, Riffian is an excellent starting point for walks and challenging mountain tours. Paths and trails lead through chestnut groves, vineyards and fruit orchards, through Texel Group Nature Park and to panoramic peaks. In the close environs, you can also Riffianer Waalweg path and the famous high-alpine route of Meran. The varied tours at Hirzer area can be reached as well.
A very special experience are hikes in and around Riffian in spring, when all the gardens are in full bloom. When the spring sun is reflected in the frozen blossoms after a frosty night the next morning, the play of colours is just perfect.
Localities in Passeiertal