Reading time about
minutes
minute
23. October 2023
Enjoyable autumn hike in Algund
Well into autumn, Algund invites you to enjoy mild temperatures and plenty of sunshine on a variety of discovery tours and culinary delights in the fresh air. For example, how about a hike along the Algunder Waalweg, paths along old irrigation channels, combined with Törggelen at the Schnalshuber farm?
Travelling on sunny slopes
Well protected from harsh winds and cold air currents by the Texel Group to the north and the Ortler Alps to the west, the climate in Algund near Meran is Mediterranean in character. That's why the hiking season is particularly long here.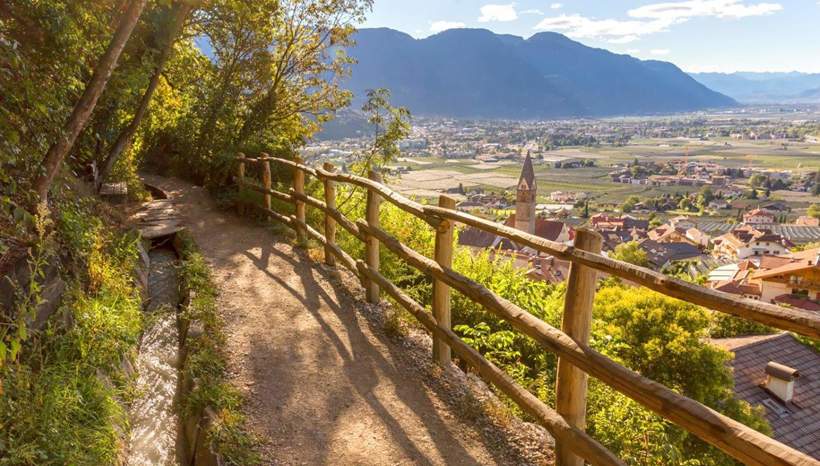 In the Meran basin and the Vinschgau, where rainfall is low, farmers built irrigation channels for meadows, fields and gardens a long time ago. Appropriate paths were built along the channels for inspection and maintenance. Around 1900, there were around 1,000 irrigation channels in South Tyrol.
On the Algunder Waalweg trail, you hike through vineyards and orchards – including marvellous views. The trail leads from the Töllgraben bridge via Oberplars and Mitterplars to the village of Dorf and on to Gratsch without any significant differences in altitude. After this almost 5 km long route, you can continue along the Tappeinerweg trail to the centre of Meran or back to Algund.
A South Tyrolean tradition in Atumn
October and November are ideal months for a hike along the Algunder Waalweg path: firstly, nature shines in a warm, golden light and secondly, you can enjoy Törggelen, a tasty meal in a rustic inn, at the Schnalshuber farm in Oberplars.
The organic farm with tavern and farm shop is only around 100 metres from the Algunder Waalweg and is also worth a visit, but roasted chestnuts (Keschtn) and new wine (Nuier) are only served from beginning of October to the end of November.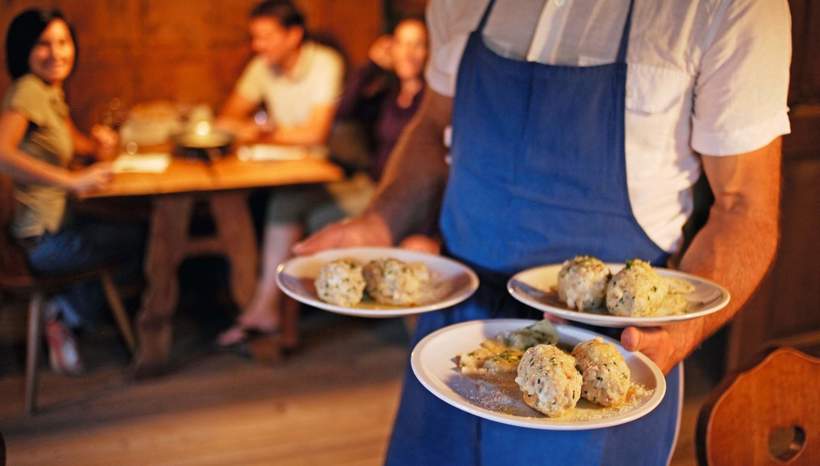 The origin of Törggelen is an initiative of the Roter Hahn, the South Tyrolean farmer association, which brings the popular tradition back to its roots.
All participating wine taverns adhere to strict quality criteria and serve authentic farmhouse dishes, chestnuts from South Tyrol and wine exclusively from their own farm.
You can recognise an open tavern, the so-called Buschenschank by the twigs (Buschen) tied together above the entrance. Farms that take part in this initiative are decorated with a red ribbon.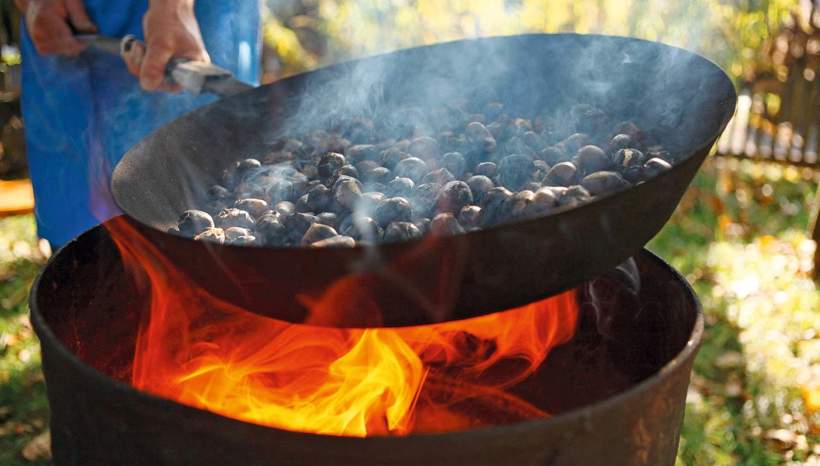 Taste the abundance of the harvest season
On Saturday, 7 October, all participating Buschenschank businesses lit the Keschtnfeuer at 6.00 pm to open the 2023 Törggele season. A guided tour of the listed Schnalshuberhof farm with its rustic parlours was also offered on this day.  Whether Keschtnfeuer or Törggelen - a spontaneous visit is not possible, you need to book in advance.
In return, there are delicious Schlutzer, dumplings called Knödel, homemade sausages and other dishes that are traditionally served at Törggelen. And a glass of wine or apple juice goes well with it. Want to try something really special? Christian Pinggera also cultivates the now rare autochthonous Fraueler white wine variety on his Schnalshuber farm.