Dumplings made in South Tyrol
Be it with speck, cheese or other ingredients – dumplings have always been one of the most delicious dishes of South Tyrol's tradition. Even today, it is frequently served to the whole family for lunch or dinner.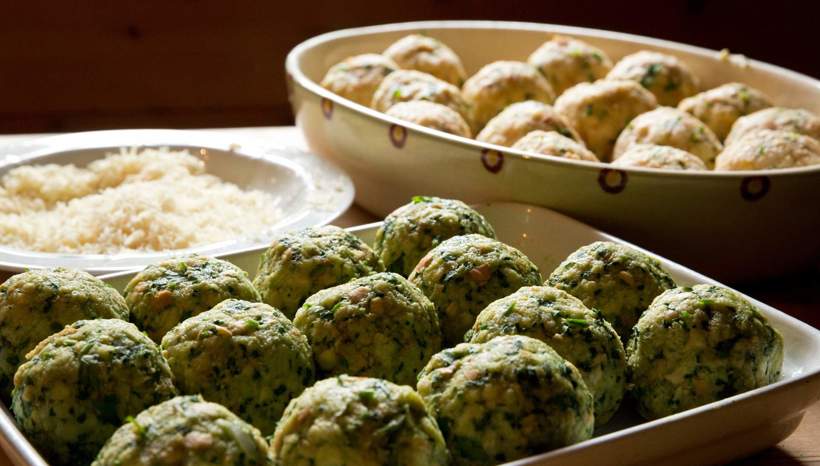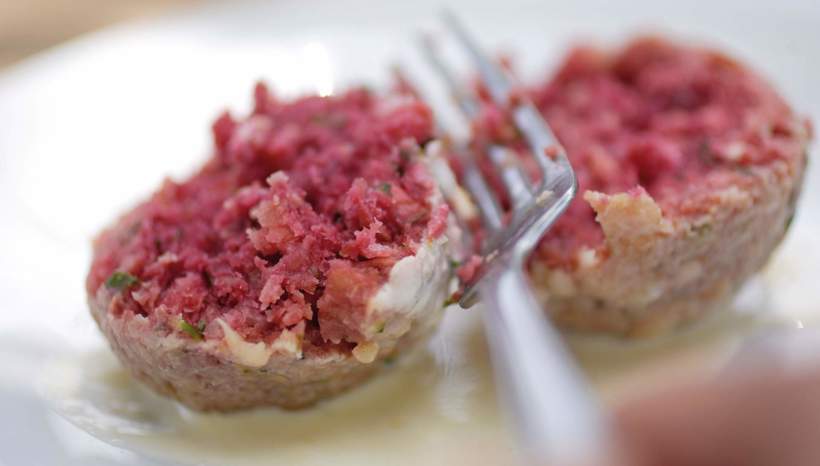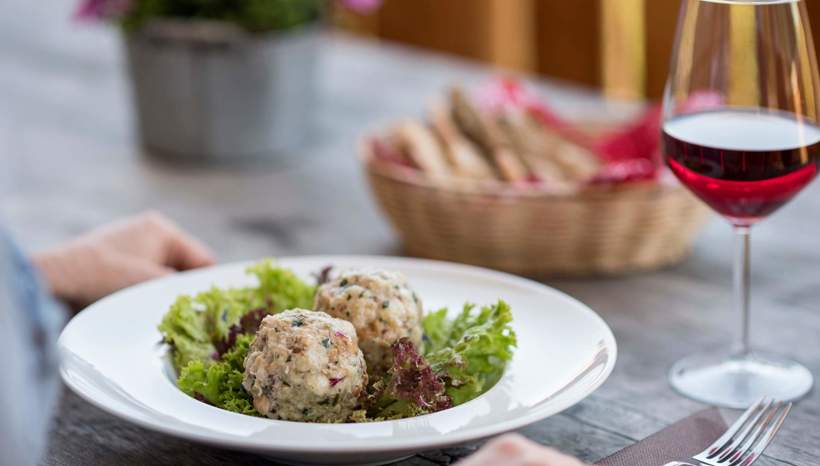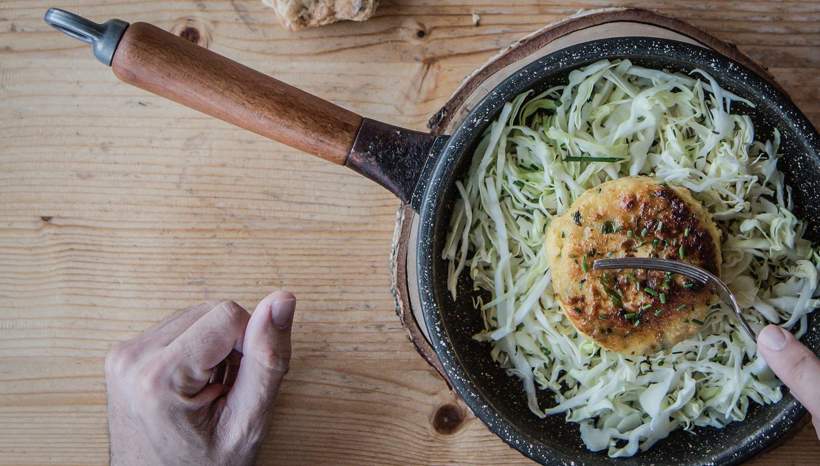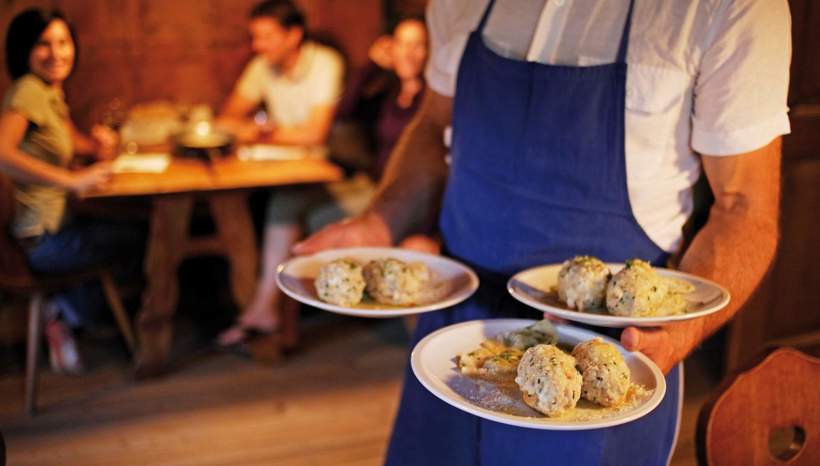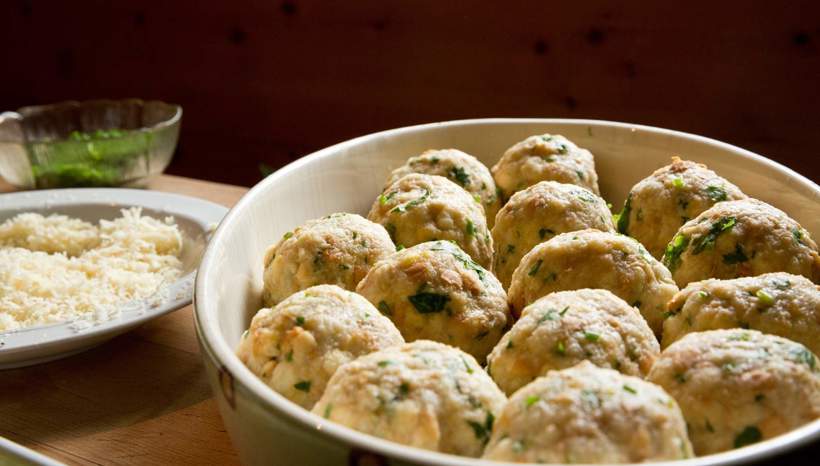 Dumplings have very long tradition in South Tyrol. The different types of dumpling dishes are loved by both kids and adults. Numerous cookbooks include tasty dumpling recipes for preparing by yourself at home, too.
If you have once visited South Tyrol, you will know for sure the dumplings are among the preferred dishes and that they can be prepared in many ways. Be it with spinach, cheese, speck, liver, beetroots or mushrooms – the variety of dumplings in South Tyrol is really vast. Do you prefer them in a soup or with melted butter? Accompanied by goulash or coleslaw? Did you know that they are never sliced with a knife, but always with a fork or with a spoon?
Here, we present the most common dumplings, that you can by yourself for your family and friends!
Dumplings with grey cheese
Ingredients for 4 persons:
100 gr of bread for dumplings
100 gr of grey cheese
1 little brunch of chives for garnish
1 little onion
2 eggs
a little water
salt and pepper
butter and olive oil
1 leek
15 little tomatoes
salt and pepper
a little butter and olive oil
Preparation:
Put all the dry ingredients in a cup, then add to the eggs some water and put it all to the other ingredients. Blend the mix by hand carefully and then let it rest for about 15 minutes. With wet hands make the dumplings (little balls) the size you prefer and then lightly cook them for 5 to 10 minutes. Cut the leek to its lengths and then into stripes of 1 cm. Cut also the tomatoes in 4 parts. Now put the chives to cook with some butter and oil and then, before it gets brown, add the tomatoes after 2-3 minutes. Add salt and pepper and spread the chives as garnish.
Buckwheat dumplings
Ingredients:
100 g cubed speck
80 g cubed leek
150 g of dumplings bread
50 g of butter
2 eggs
70 ml of water
Parsley, garlic, salt, pepper
Preparation:
Mix the eggs with the water, fry the speck in butter. Mix all ingredients except the eggs. Now mix all the ingredients with the eggs. Let rest the mass for half an hour and form then your dumplings. Give the dumplings in boiling water for 10 minutes and serve them with soup.
Dumplings with speck
Ingredients for 4 people:
300 g / 10 oz stale bread
2 cups warm milk
1 tbsp parsley
1 small onion
150 g / 5 oz Speck
3 eggs
80 g / 3 oz. Flour
salt
butter
1,25 litres / 2.25 pints tasty clear stock
2 tbsp snipped chives
Preparation:
Cut bread into small cubes and place in large bowl. Add diced speck and chopped parsley. Beat eggs and milk together and pour over bread. Leave to stand 20 minutes. Peel and chop onion. Fry in butter. Add fried onion, flour and salt to bread mixture and combine well. Shape into egg-sized dumplings and cook in boiling salted water for about 15 minutes. Serve in hot broth sprinkled with chives.
Dumplings with spinach
Ingredients for 8 dumplings:
200 g spinach
150 g stale bread
60 g onions
50 g milk
30 g Parmesan cheese
25 g flour
20 g butter
2 medium-size eggs
Garlic
Salt
Nutmeg, pepper
To serve:
70 g butter
30 g Parmesan cheese
Chives
Preparation:
Boil the washed spinach, remove all water. Put the chopped onions and garlic into a pan with the butter until they are brown. Add the spinach and season with salt, pepper and nutmeg. Cook for 5 minutes and let it cool.
Blend the spinach with the eggs. In a bowl, add the diced bread, the spinach-egg mixture, the milk, parmesan, flour and some salt until you have homogenous mixture. Leave for about 15 minutes.
Form small dumplings with wet hands. Leave them for another 20-30 minutes on a surface dusted with flour. Then cooked them in hot salt water for 12-15 minutes. Serve with brown butter, chives and parmesan cheese.
Selected accommodations in South Tyrol