South Tyrolean "Spitzbuben"
Shortcrust pastry, a drop of fruity jam (preferably homemade) and a little icing sugar: In addition to gingerbread, vanilla crescents, butter biscuits and a fruit loaf called "Zelten", "Spitzbuben" are one of the classics on the Christmas biscuit plate in South Tyrol.
The recipe: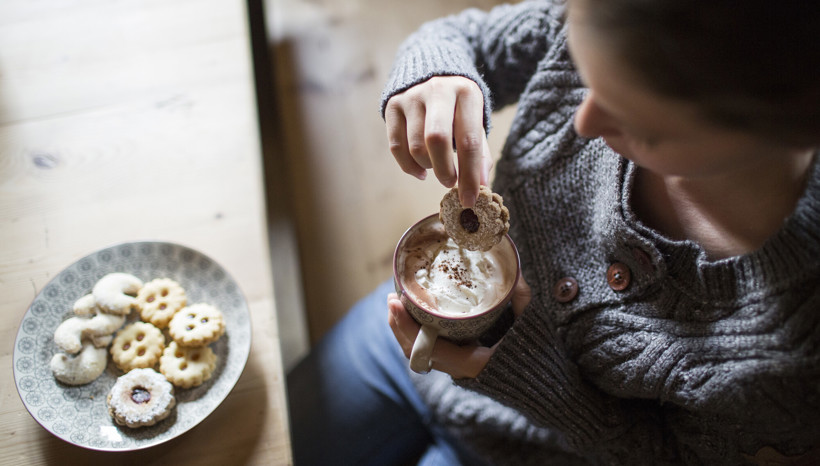 Ingredients for approx. 70 cookies
250 g soft butter
130 g icing sugar
1 packet vanilla sugar
A little grated lemon peel
1 pinch of salt
1 tbsp rum
3 egg yolks
400 g flour
½ packet baking powder
2 tbsp milk
200 g apricot or raspberry jam for the filling
Icing sugar to sprinkle on top
Preparation:
For the dough, first mix the soft butter with the icing sugar until smooth. Add the vanilla sugar, lemon zest, salt and rum, then stir in the egg yolks. Sieve the flour and mix with the baking powder, add and knead everything with the milk to a smooth dough.
Cover the dough and leave it to rest in the fridge for about 1 hour. Then roll out evenly to about 5 mm thick. Cut out round biscuits from one half of the dough and rings from the other half. Place on a baking tray with baking paper and bake in the preheated oven with top/bottom heat at 180 °C (fan oven 160 °C) for about 7 minutes.
Leave to cool, then spread some jam on the round biscuits and place a ring on the top of each. Finally, sprinkle with icing sugar.
Selected accommodations in South Tyrol