Gerstensuppe: barley soup
On a fresh autumn evening, during a "Törggele" dinner or after a wonderful day on the South Tyrolean ski runs: there is nothing better than a delicious, hot barley soup.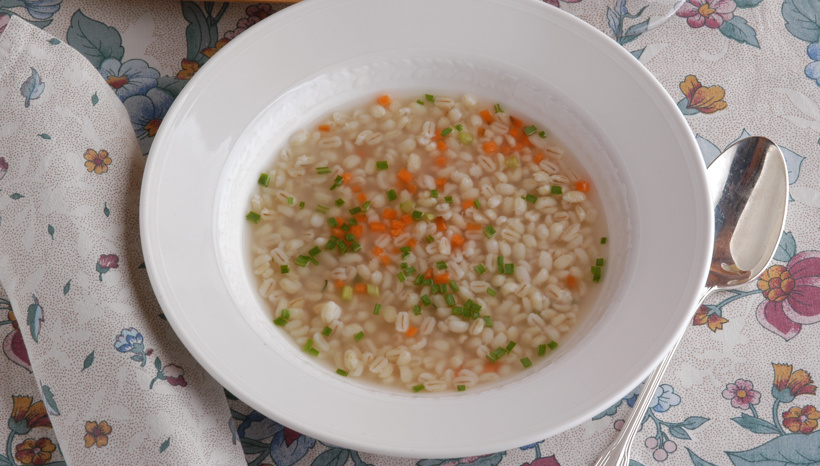 Everyone who travels to South Tyrol should have tried a traditional barley soup at least once. The "Gerstensuppe" or barley soup is a typical farmers' dish with a very special taste. The ingredients are rather simple, as the mountain farmers frequently lived in modest conditions. However, the taste is excellent.
The barley soup from South Tyrol is served in cosy mountain huts and farm taverns, and in elegant hotel restaurants too. During the "Törggele" time in autumn, barley soup is a real must on every menu. In some holiday regions, such as in Pustertal, the soup is served with a "Tirtl" (baked dumpling, filled with curd, spinach or sauerkraut).
With the addition of vegetables, corn and meat, barley soup is a satisfying meal. This also the reason why it has always been loved by farmers.
The recipe
Ingredients for 4 people:
1 chopped onion
30 gr carrots, celery, wild celery and chopped potatoes
100 gr smoked bacon
100 gr barley
2 l meat soup
some butter
1 bay leaf
Preparation:
Chop the onion and roast it in the butter. Then add the vegetables and the barley and let it roast. Then add the soup and the bay leaf. Cook for 1 hour. At this point chop the bacon and the potatoes, add to the pot and cook for another 20 minutes. Add salt and pepper to your taste.
Selected accommodations in South Tyrol