South Tyrolean Melchermuas
The Melchermuas, a rich alpine specialty, is originally the food of the alpine dairymen and still served today in some mountain huts and alpine pastures.
A traditional alpine dish that enjoys less fame than the South Tyrolean dumplings (Knödel) but must be definitely tried. As it is already suggested by the name itself, the part "Melcher" in Melchermuas comes from the word milking. The milker was responsible for the animals on the farm and in the alpine pastures, his work was physically demanding and the simple, high-energy food with lots of butter and milk was just right. The Melchermuas is cooked over an open fire and eaten together from a cast iron pan. When it comes to preparing the Melchermuas everyone has their own tricks as it is an old receipt and usually passed down from generation to generation. So, there are multiple ways of cooking it. A true rarity of the alps.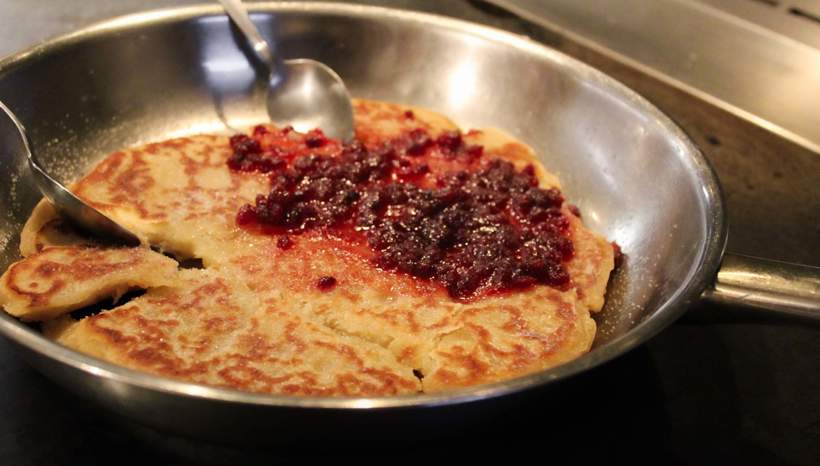 Recipe:
Ingredients for 4 people:
200g - 250g farm butter
500g flour (can also be a little coarse)
700ml fresh milk
a pinch of salt
Preparation:
Melt the farmer's butter in a cast-iron skillet. Remove the pan from the heat and add the flour and a pinch of salt, stirring evenly. Add milk and stir until the dough is thick and smooth. Do the spoon test: if it gets stuck, the dough has the right consistency. If there are lumps, crush them with a fork or spatula, also called "Muaser" in South Tyrolean dialect.
Heat another pan and melt some of the remaining butter. Add some of the dough and mash it with a spatula so that it is about 1cm thick. Cook the dough on both sides until it turns golden brown. Particularly tasty is the crust which forms at the bottom on both sides. This process must be repeated several times, depending on the size of the pan, until the dough is used up. Melchermuas is usually served with cranberry jam, also called "Grantenmarmelade", and sugar. As an alternative to the classic version, Melchermuas can be sprinkled with cinnamon and sugar.
Selected accommodations in South Tyrol