Deer in cranberry sauce
One of the most typical meat in South Tyrol, in addition to beef and pork is certainly that of the deer. Here's how to prepare a great dish.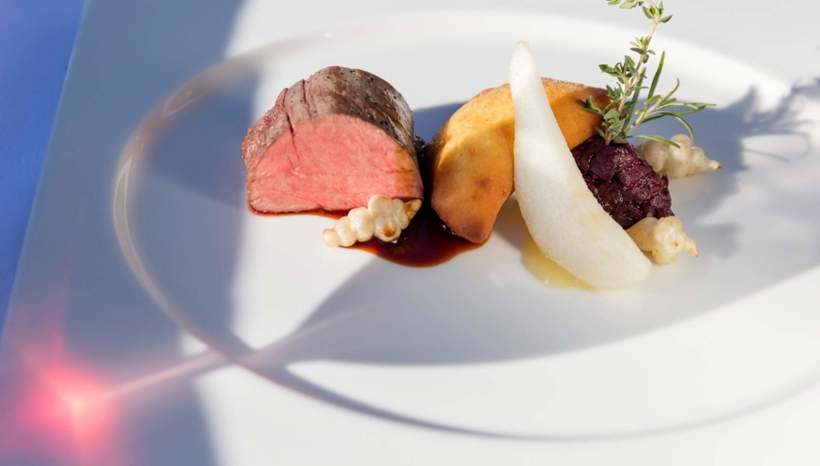 Venison has a unique taste and a darker colour. This product is not very common and considered to be more exclusive. During a holiday in South Tyrol, you should taste it in all cases. Venison is not the preferred meat for everyone. However, the correct preparation and a suitable seasoning create a great culinary experience.
The following recipe, in fact, focusses on this very special product from South Tyrol. It is accompanied by another ingredient found in the local woods: blackberries!
Recipe:
Ingredients
1 kg of deer
200 g of bacon
1 bottle of red wine
1 dl of cream
200 g blueberries (even frozen)
4 juniper berries
3 bay leaves
1 onion
1 carrot
1 celery stalk
1 pinch of marjoram
flour
80 g oil
salt, pepper
Preparation:
Chop the deer, put it to marinate for at least one day in the wine with the chopped vegetables, bay leaves, juniper and marjoram. Drain the meat and vegetables, put them aside. In a saucepan fry the bacon with the oil, add the deer lightly floured and brown. Then add the vegetables and the vine.
Add salt and pepper and continue cooking for about 1 hour and a half. Remove meat from sauce and set aside. Add the cranberry sauce and simmer for about 5 minutes. Puree the mixture, add back the meat and the cream and serve.
Selected accommodations in South Tyrol