It is impossible to imagine Advent in South Tyrol without this tasty fruit loaf. It is usually baked at the beginning of December, so that it can develop its full aroma until Christmas. Dried figs, sultanas, nuts and typical Christmas spices are at the top of the long list of ingredients. However, it is up to you to decide whether candied fruit should also be added to the dough. 
The recipe: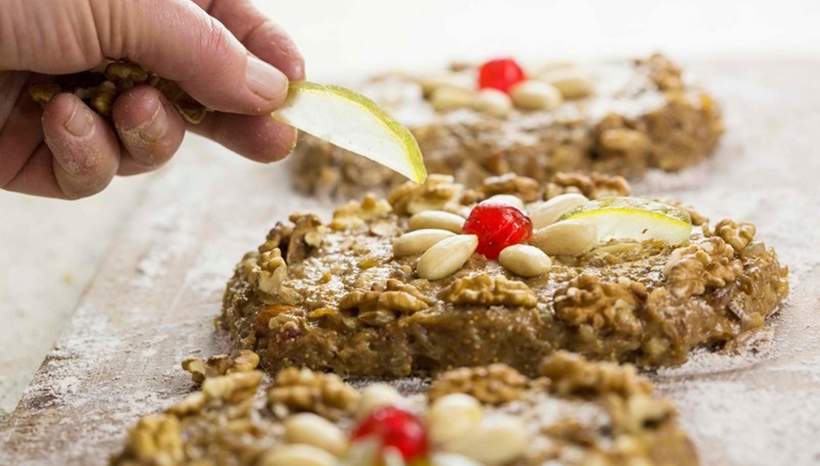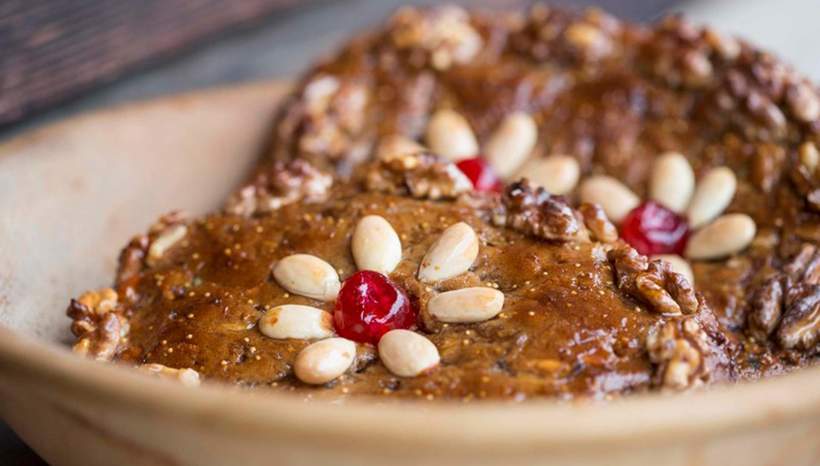 Ingredients for 4 large Zelten
For the dough:
200 ml lukewarm water
20 g yeast
2 tbsp sugar
150 g wheat flour
100 g rye flour
15 g salt
1 tbsp oil
1 tsp aniseed and caraway
Plus: 
500 g dried figs
250 g raisins
120 g sultanas
120 g nuts
120 g pignoli
120 g peeled almonds
(50 g each candied lemon and orange peel)
50 ml white wine
3 tbsp rum
70 g honey
½ tsp each grated lemon and orange peel
½ tsp cinnamon
1 tsp each clove powder, allspice and nutmeg
For decorating & spreading:
Nuts, almonds and candied cherries
Honey or simple syrup
Preparation: 
It is best to prepare the dried fruit and nuts the day before and marinate them overnight – or at least 1 hour in advance. Cut the figs into small pieces, roughly chop the nuts and mix with sultanas, raisins, pignoli, almonds, candied fruit, white wine, rum and honey. 
For the dough, mix the water, yeast and sugar and prove for 10 minutes. Then knead with both flours and the remaining ingredients for the dough and prove, covered, in a warm place for another 30 minutes. 
Add the lemon and orange zest and the spices to the marinated fruit, mix everything with the bread dough and knead well. Shape the sticky dough into Zelten (approx. 3-4 cm thick, mostly round or oval), place on a baking tray lined with baking paper and decorate with nuts and almonds. Leave to rise again for 20 minutes.
Then bake in a preheated oven at 170 °C for approx. 40 minutes. While baking, coat several times with honey or simply syrup. Carefully remove from the tray, allow to cool and decorate with the cherries. Wrap the Zelten individually in transparent film and leave to rest for a good week (even longer if possible). 
Selected accommodations in South Tyrol