Holidays in Lajen
Lajen is a small and idyllic mountain village located at the valley entrance of Gröden Valley, on a sunny terrace in Eisacktal, offering scores of attractions and activities.
Lajen is located at 1,100 m of altitude, on a sunny mountain ridge between the valleys of Gröden and Villnöss. In addition to the main village, the municipality of Lajen also includes the districts Ried, St. Peter, Albions, Tschöfas, Tanirz and Freins.
The village has a quite long history. Presumably, the area was already settled around 6,000 BC. A rest place for hunters dating back to that time was found on Raschötz, the local mountain of Lajen. Allegedly, in the Middle Ages, the famous minnesinger Walther von der Vogelweide was born here – as some historians claim.
The picturesque mountain village always welcomes visitors with hearty hospitality. As well, Lajen is particularly family-friendly. Many rustic mountain huts offer their own playgrounds for kids. The family-friendly hiking paths and funny events for kids and adults complete the offer.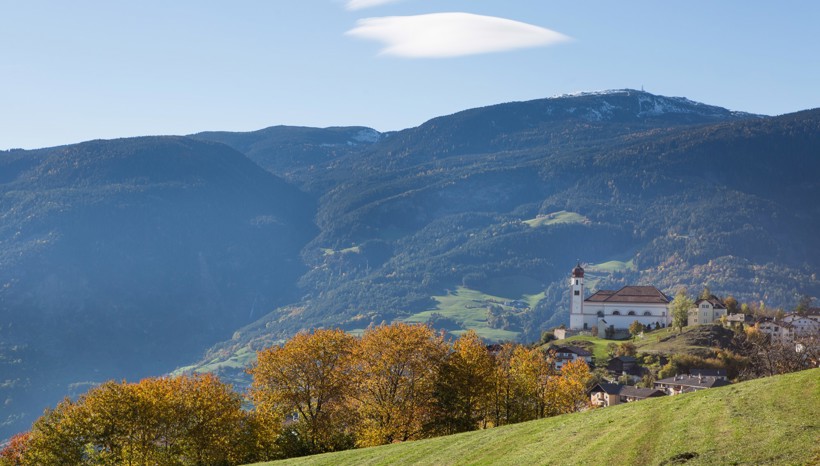 The magic of the seasons in Lajen
In any case, in and around Lajen in Eisacktal, there is always much to do – regarding culture, sports and landscape. The best way to explore the region is on foot or bike. Lajen is only 10 minutes away from Gröden in the Dolomites which is a wonderful destination for hikes and bike tours.
In autumn, Lajen is surrounded by a colourful landscape marked by lush vines and yellow-red forests. After the grape harvest it is time for a special harvest tradition – the so-called "Törggelen". Taverns and inns majorly serve new wine, roasted chestnuts and other autumnal delicacies. Another spectacle in autumn is the traditional homecoming of livestock.
In winter, Lajen offers many activities too: There is a funny natural toboggan run and a pleasant cross-country ski trail as well as romantic hiking paths. In only 15 minutes, skiers can reach the skiing region Gröden, that is part of Dolomiti Superski and the world-famous Sellaronda. A free shuttle service brings you from Lajen to the ski area and back several times a day.