Reading time about
minutes
minute
10. October 2023
Where wedding dreams come true
Are you newly engaged and currently thinking about where and how you want to celebrate your wedding? Have you always dreamt of a romantic dream wedding in a castle? Do you love the landscape, the food and the climate of South Tyrol? Then we have found the ideal wedding location for you: Castel Katzenzungen.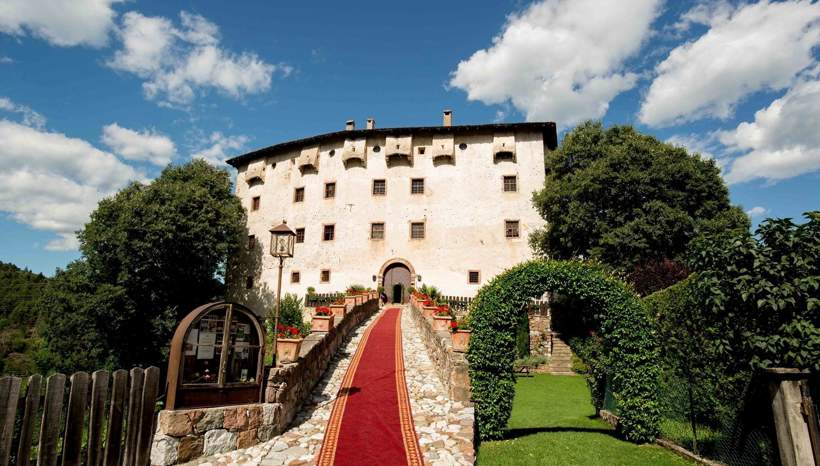 A Renaissance castle to fall in love with
Up to 200 guests can celebrate a wedding with you and the man (or woman) of your dreams at Castel Katzenzungen until the early hours of the morning – a wedding in South Tyrol that everyone will remember fondly and for a long time to come.
The castle looks back on 800 years of history. It is situated in an idyllic, secluded location in the village of Prissian, which belongs to the municipality of Tisens. The picturesque village between Meran and Bozen enjoys a mild climate with plenty of sunshine all year round.
Castel Katzenzungen has been lovingly renovated and offers stylish rooms of various sizes on 3 floors, from the knight's hall to the smoker's kitchen.
A symbolic wedding ceremony can be organised in front of the castle or under the canopy of the largest and probably the oldest grapevine in the world with a view of the Meran mountains, and the church of St. Martin is very close by. 
The charming castle garden and the impressive castle bridge also contribute to the fairytale ambience.
The favourite date for your dream wedding
If you are planning a castle wedding in South Tyrol, get in touch with Veronika Egger Pobitzer (+39 0473 927018 or info@castel.katzenzungen.com) early, as the dates in the most popular wedding months from May to September are quickly booked up at Castel Katzenzungen.
Veronika is your contact for all events: she and her castle team have a wealth of experience in organising events and work together with a South Tyrolean award-winning chef and other tried and tested partners. From the decorations to the menu planning to the music, nothing is left to be desired to make your wedding dreams come true.
Castel Katzenzungen as an event and film location
Of course, Castel Katzenzungen is not just a great location for weddings. Whether it's a birthday, company anniversary or cultural event, conference, fashion show or gala dinner – Castel Katzenzungen offers the perfect setting and organisation for private and professional events with up to 300 guests.
The historic castle is also ideal as a film location. Groups of 10 people or more can also make an appointment for a guided tour of the castle and its vineyards. One highlight is the Versoaln vine: probably the oldest and largest vine in the world grows at the foot of the castle. It is at least 350 years old and its canopy extends over 350 square metres.