Texel Group Nature Park
Texel Group mountain range in the centre of the holiday region Meran and environs has a surface of 31,391 hectares and offers an ideal habitat for unique flora and fauna.
The chance to live in such a natural place is an experience you do not want to miss. The strength of water, the majesty of peaks, the beautiful mountain lakes and the magic that natures does to our body and soul. The best way to feel nature's benefits.
Texel Group Nature Park was founded in 1976 and is one of the largest nature parks in South Tyrol. The park goes from Etschtal in the south, Schnalstal in the west, Passeiertal in the east and the main Alpine ridge in the north.
Thanks to an altitude difference of almost 3,000 m, Texel Group Nature Park near Meran offers an impressive variety of flora and fauna. At the local Nature Park house in Naturns, you can learn more about the parks and its geological condition. The Bunker Mooseum in Passeiertal, you can also see how the area was settled in ancient times.
Hiking in Texel Group Nature Park
Without any doubt, the Meran high alpine route is one of the most famous trails at Texel Group Nature Park. As well, the Sprons Lakes, which create the largest lake area in South Tyrol together, are always worth a visit. For families, we recommend a visit at Partschins waterfall. The tour to Mt. Roteck or Mt. Rotegg (3,337 m) requires sure-footedness and head for heights: The highest peak of Texel Group Nature Park can only be climbed by experienced mountaineers with via ferrata equipment.
Moreover, professional nature park guides accompany you on excursions, showing you the beautiful but sensitive ecosystem of Texel Group Nature Park, inviting you to treat nature respectfully. For more information about the tours, prices and inscriptions, please contact the tourism associations in the environs.
Impressions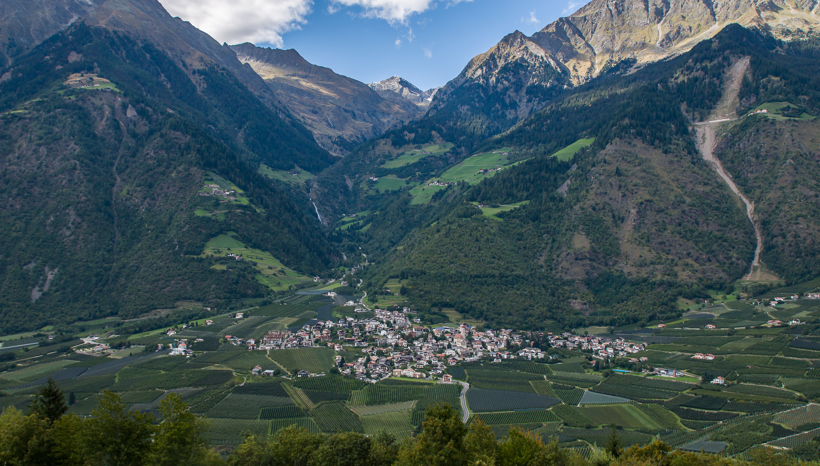 Selected accommodations in South Tyrol