Haderburg Castle in Salurn
The origins of Salurn Castle or Haderburg Castle, in the southernmost village of South Tyrol, date back to the 11th century: in 1053, Haderburg Castle was mentioned in a travel report for the first time.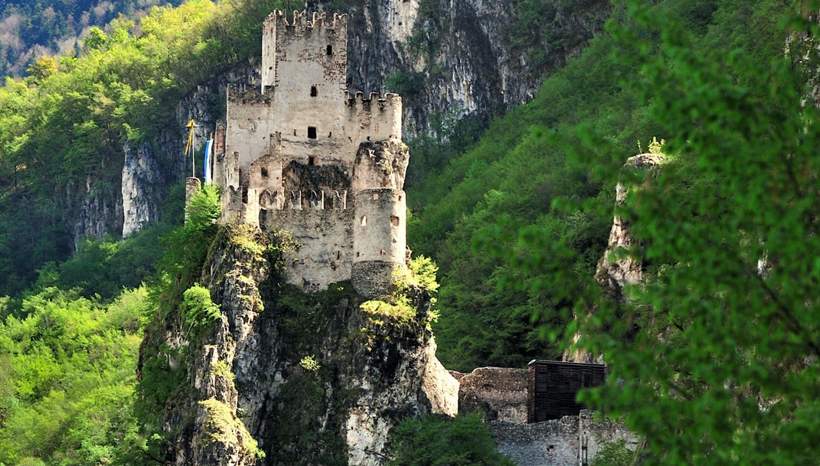 After a varied history with several refurbishments, reconstructions and owners, the castle was threatened to decay. In fact, as the castle lost its strategic importance in the 17th century, it was not inhabited anymore.
Legendary Salurn Castle
Only in the 21st century, the owner has renovated the castle with the support of Südtiroler Sparkasse. Since that time, this historical monument is accessible to visitors.
Castle Salurn is not very big, and is perched on a rock, just above Salurn in Southern South Tyrol. Its romantic beauty and impressive position had inspired the Brothers Grimm too, who mentioned it in a legend.
Culture & cuisine
The Haderburg tavern "Zum 18. Fass" and the society to Haderburg Castle ensure that Salurn Castle is a popular attraction in Southern South Tyrol at the moment. Guided tours can be booked from a minimum number of participants all year round. A special experience is a tour with the night watch and the medieval dinner afterwards.
Moreover, there are numerous events such as knights' festival and book presentations. If you would like to visit Haderburg Castle, you can reach the castle by a quiet 20-minute walk. The short walking path is partially steep. Arrived up there, you will be able to enjoy a dreamlike panoramic view.
More info & opening hours:
Haderburg - Salurn Castle
Phone: +39 334 7775843
E-mail: info@zum18tenfass.it
Web: zum18tenfass.it
Selected accommodations in Salurn