Slack Line Park - Dance on the rope
Are you aiming high? Then do not miss the first South Tyrolean Slackline Park in Wolkenstein.
The new and innovative trend, called slacklining, is a blend of yoga and a tightrope dance. Brave acrobats provide great astonishment, especially in the summer months, when many walkers linger through the local park facilities. Now, anyone who thinks a new circus has opened is mistaking.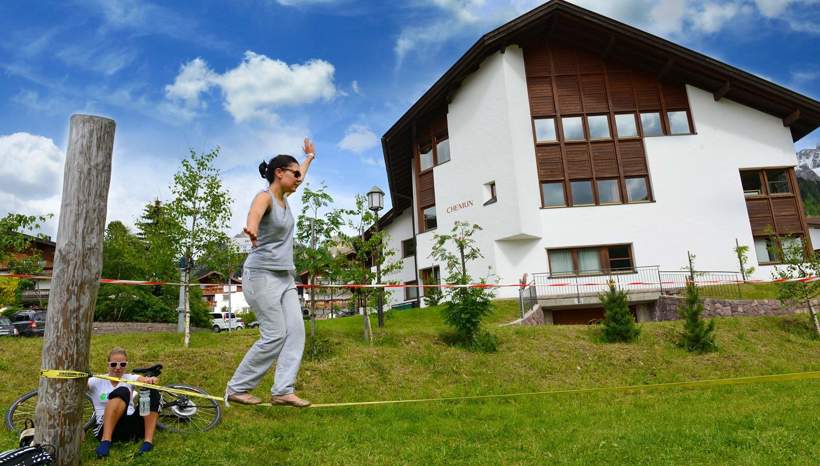 What is slacklining?
The modern balancing act is called "slacklining", "Slacker" or "slackline".  The big difference to the classic tightrope dance is determined by the so-called Gibbon, the rope. While acrobats are balancing on a stable tight rope, "slack liners" are poising on a dynamic swinging line.
The rope line is stretched between two fixed points. The term "slackline", meaning "loose leash", explains its principle: the swinging line vibrates under the weight of the acrobats. The longer the rope the more calm and balance the slackliners need. The athlete tries to compensate the lines' vibrations with his body. He has to walk along the rope with a lot of concentration, balance and coordination. Slacklining claims every muscle. Thus, it is a perfect full-body workout; it trains and enhances balance and strengthens leg and core. 
Longlines, meaning ropes over 100 meters long, promise especially to advanced slackliners an extreme thrill. The very audacious athletes among them also venture out the height and test their concentration and sensitivity at the so-called highlines. For this purpose, the ropes will be spanned between high trees or even mountain peaks. Another adventurous way is waterlining, balancing over water. 
There are no limits for "slacklining". Hence wild and extreme challenges and acrobatic tricks like 180° or 360° turns, backwards and forwards somersault, splits, handstands, sitting cross-legged, slides or grabs  (crouch down and grab the rope) are only some ways to make slacklining special.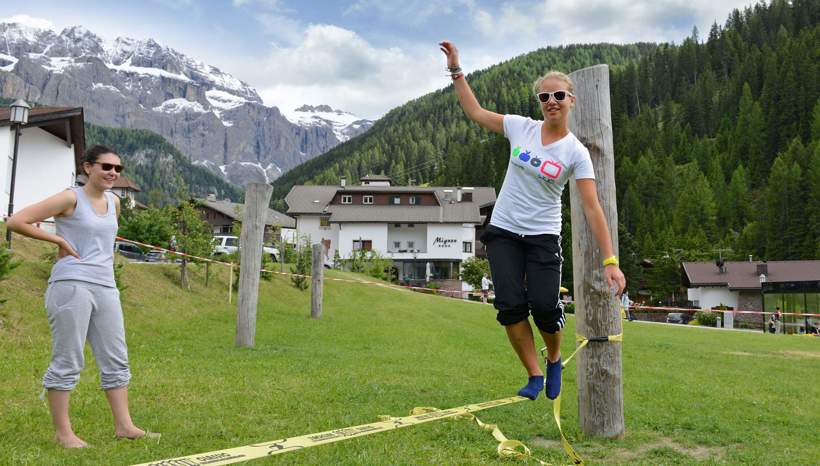 Slackline park in Gröden
The new sport, having its origin in the US, is recently gaining more and more enthusiasm also among South Tyroleans. The first Slackline Park opened its doors in Wolkenstein in Gröden. It offers its guests a total of 13 different possibilities to arrange the lines, from lines for beginners to special ones like rodeo lines for the adventurous experts. 
Try out the tricks on the "loose leash" and visit the Slackline Park in Wolkenstein. Give it a try and jump into the world of "slackness". Let's slack!
Selected accommodations in Wolkenstein in Gröden