Fixed-rope route Stuller Wasserfall
The impressive fixed-rope route at Stuls waterfall in Passeiertal Valley offers challenging passages as well as a dreamlike landscape in the environs.
A challenging variant in the middle section, a steep ascent and directly located near a thundering waterfall: The new fixed-rope route "Stuller Wasserfall" is a must for ambitious and courageous via ferrata fans. The cables lead along the two cascades of Stuls waterfall in Moos in Passeier, one of the highest waterfalls in Italy. Physical fitness, stamina, arm power and good foot techniques are essential to master the tour with difficulty level D (variant E). As well, the fixed-rope route combines easy walking and climbing passages with vertical and partially overhanging passages.
Tour description:
From the church in Moos in Passeier, proceed on foot to the hamlet Aue until coming to the state road. Here along a gallery, over a stair and iron tube to the approach path (about 30 min. from the start). Arrived at the beginning of the via ferrata, the tour begins comfortably with a crevice, over a horizontal ridge and continues with walking passages max. degree of difficulty B/C).
The subsequent passage is not difficult neither, then it is time for a short overhanging passage (D). The next part of the fixed-rope route is very special: variant 1 on the left goes to the E5 long-distance trail with a moderate difficulty level. Variant 2 on the right, however, goes steeply to an overhang and a short crossing passage (D/E) to the tour highlight (E). Both variants cross the E5 trail. The last part of the via ferrata continues to a meadow (B/C) and the hamlet Egger near Stuls.
Arrived at the centre of Stuls, you will get back from there via 10A path to Moos.
Tour details:
Length: 3 hours / 4.5 hours
Height difference: 300 m / 520 m
Level of difficulty: very difficult
Images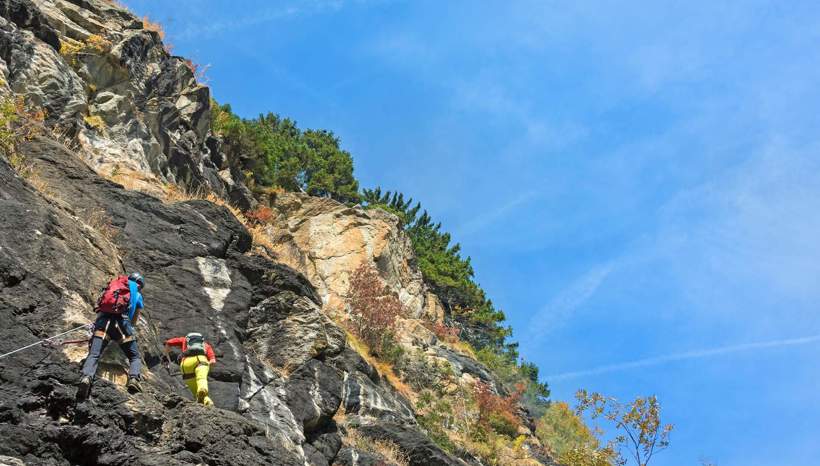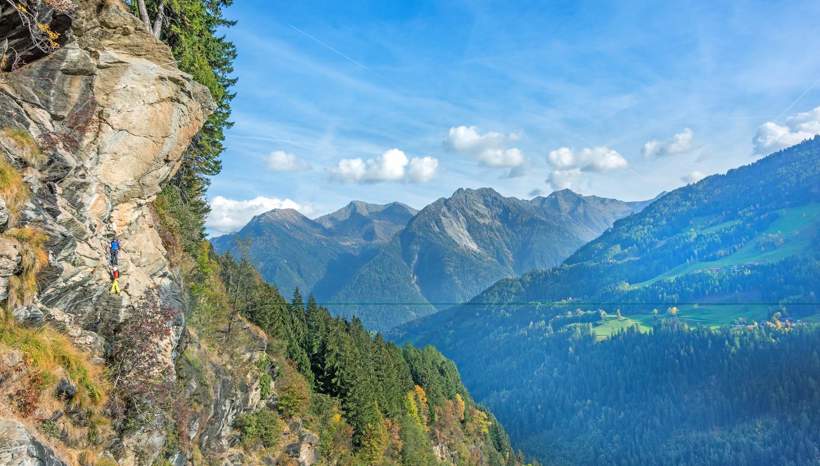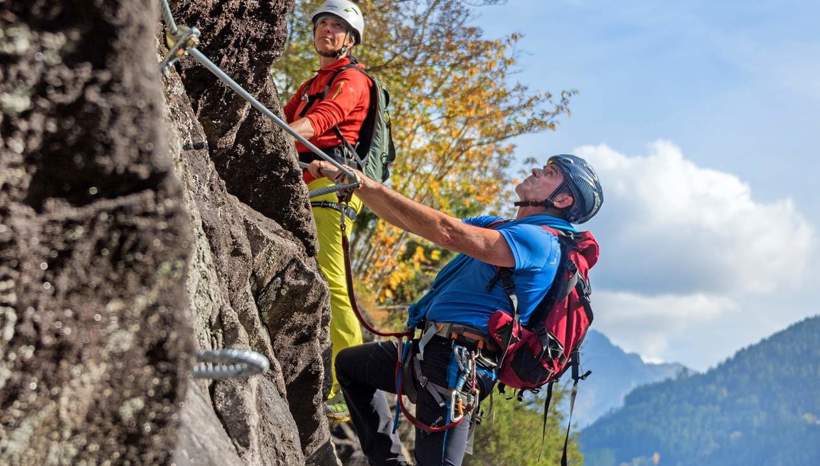 Selected accommodations in Moos in Passeier