Mt. Kesselkogel
With 3,004 m of altitude, Mount Kesselkogel is the highest peak of the Rosengarten massif in the Dolomites.
He is situated a bit hidden in the background and nevertheless his imposing appearance he cannot really compete with the more famous Vajolet towers or Mt. Rosengartenspitze for example. Mount Kesselkogel is reachable by an easy fixed rope route.
But easy is relatively: there are some parts in the ascent which are very exposed and not every part is secured by a fixed rope. This excursion is only recommended to people who are free from giddiness and sure footed.
Tour description
To get to the starting point you have to drive at first from Blumau in Eisacktal to Tiers. Park your car at the parking place at the end of Tiers. Walk to Tschaminschwaige Inn and on path 3 into the valley Tschamintal and then on the right hand on path 3a to Grasleiten refuge (3 hours from your starting point; here you can stay overnight). From the hut you take the signpost path the Grasleiten Pass. Here begins the peak ascent.
From here you have to go to the small embrasure. Here begins the fixed rope route. Follow the route. But attention: some parts are unsecured and pretty exposed! After 3 hours (from Grasleiten hut).
The descent is the same as the ascent.
Details of the tour:
Length: 6 - 6,5 hours
Altimeters: 1854 m
Level of difficulty: easy - medium difficult
Images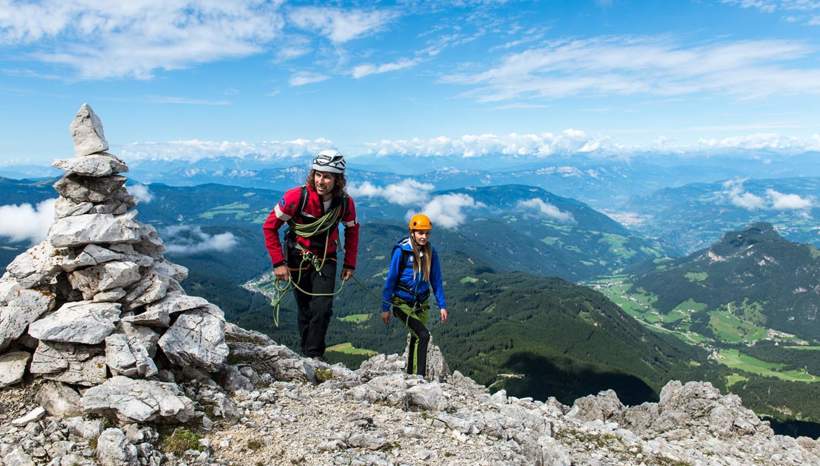 Selected accommodations in Tiers am Rosengarten