Fat bike in South Tyrol
Who says that biking is only possible in summer? New technologies and a special equipment allow passionate bikers to practice their sport in all kinds of weather and on unstable soils too. With the thick tyres of a fat bike you can cycle through the snow easily.
In summer as well, there are several bikers in South Tyrol cycling on particularly large and thick tyres. Fat bikes are ideal for moving on difficult soils and unstable surfaces, such as sand, gravel, mud or snow. In summer, fat bikes are frequently used for particularly difficult trails or for downhill biking.
Fat bikes do not only have thick tyres and bigger forks, but more robust frames as well. The large and thick tyres do not require a high tyre pressure and therefore have a particularly good ground contact. Obstacles and uneven surfaces can be mastered better this way.
Mountain biking in winter
Frequently, fat bikes are also called winter mountain bikes, although they are perfect for soils such as sand too. In South Tyrol, they are used most of the times in winter in order to cycle on slopes and snow-covered trails.
The fat bike was developed for the first time in the 1980s in Alaska and at the same time in the desert of New Mexico. The first modern fat bike was created in 1980 by French cyclists Jean Naud.
The name "fat bike" was coined by Gronewald in 2001 and has since then been used for bikes with particularly big and thick tyres. The invention of the special SnowCat tyres has revolutionised winter mountain biking, as they can be installed on each bike. This way, this sport can also be practised without special bikes.
Some sportsmen have achieved extraordinary undertakings on a fat bike! In 2013, extreme sports athlete Maria Leijerstam achieved the South Pole by bike as the first human. For her record ride, she used recumbent tricycle with special fat bike tyres. In 2014, Juan Menéndez Granados reached the South Pole with a fat bike. Daniel P. Burton, as well, crossed the Antarctic on a fat bike in 2014 reaching the South Pole.
Fat biking in South Tyrol
In South Tyrol there are several trails where you can try fat biking. In Gröden, for instance, fat bike tours by night are offered as well as rental bikes. At the ned of the tour, you can enjoy a delicious dinner in a mountain hut.
Furthermore, at Lake Reschen, on Ritten, on Seiser Alm, in Passeiertal, in Hochpustertal and in numerous other villages, there are exciting fat bike tours. Fat bikes are available for rent on site. Several hotels provide them for their guests even for free, in order that they can practise the exciting sport during their holidays. Electric fat bikes facilitate cycling and allow less practised bikers to reach lofty heights too.
Further information is provided by the bike guided in your holiday destination. They will give you tips and will accompany you on the most beautiful tours in South Tyrol.
Images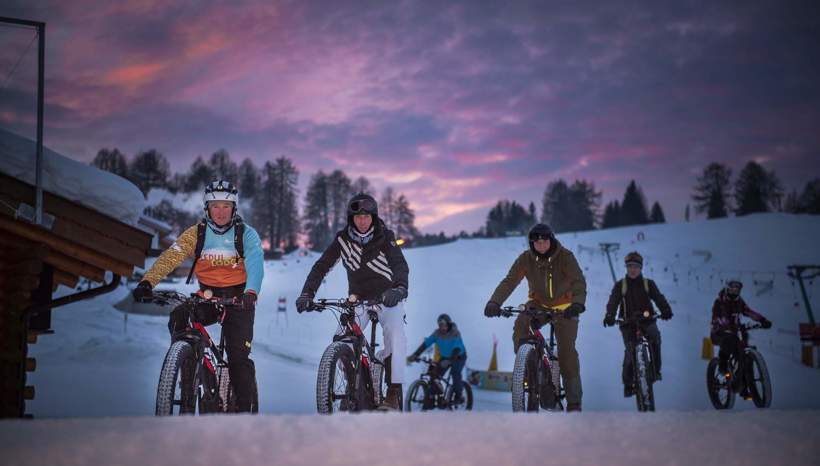 Selected accommodations in South Tyrol