Walk through the city of Bozen
Special places, cultural sights and all kinds of peculiarities are spread across South Tyrol's capital. Let's go for a walk!
A visit in South Tyrol's capital is almost a must if you book your holidays somewhere in South Tyrol. Bozen is certainly the "most Italian" city of the province. In fact, you can see several architectural remains dating back to Fascism, such as the courthouse or the controversial issue of the victory monument.
Moreover, on the menus in restaurants you will find typical Tyrolean dishes as well as Italian delicacies: spaghetti alle vongole or Schlutzkrapfen, tiramisù or strauben – as well as pretty girls with Dirndl dresses or with elegant Dolce & Gabbana dresses, the dialect of Sarntal or Italian and German written language.
The arcades
The most renowned parts of the city are the arcades of Bozen. They are arcade passages on both sides of the road, with numerous shops and boutiques. In fact, they are one of the most distinguished and best shopping streets in South Tyrol.
At the end of the arcades, there is one of the landmarks of Bozen: the fruit market. In addition to fresh South Tyrolean fruits, vegetables and flowers, you can have an excellent cappuccino, enjoy the colours and scents of the market or warm your hands holding a bag of roasted chestnuts in autumn.
Fruit market, cathedral & Museum Street
From the fruit market, you can reach the worth-seeing cathedral of Bozen and Waltherplatz Square, named after the famous minnesinger Walther von der Vogelweide who presumably comes from South Tyrol, in a few minutes. From the fruit market, you can also get to Goethe Street and Museum Street with the Museum of Archaeology displaying Ötzi – the Iceman.
Talfer meadows & water promenade
Vis-à-vis the museum right next to Talfer Bridge, you can taste a really special, cold delicacy. Here, you can find a special Ötzi ice cream, with vanilla and raisins and a few secret ingredients.
If you cross Talfer Bridge, you get to the popular water promenade and to the most beautiful, best and most renowned viewpoint of Bozen: In the background of vines and Maretsch Castle, Mt. Rosengarten rises coloured in red at dusk. This romantic view will be a real highlight during your holidays in Bozen!
Images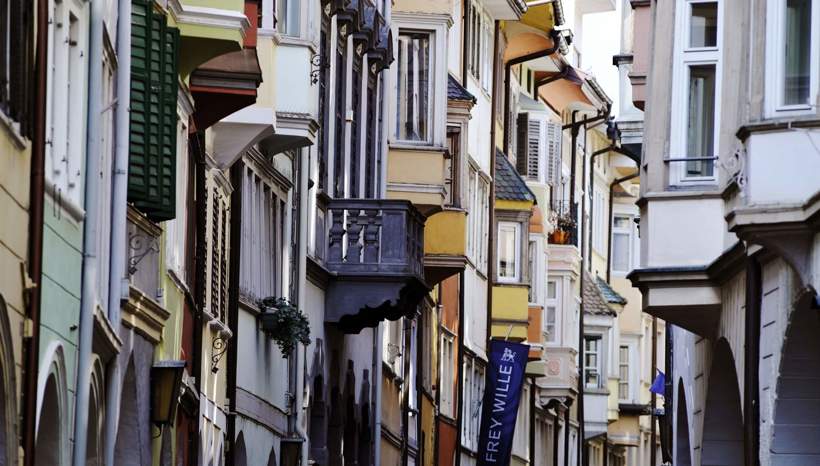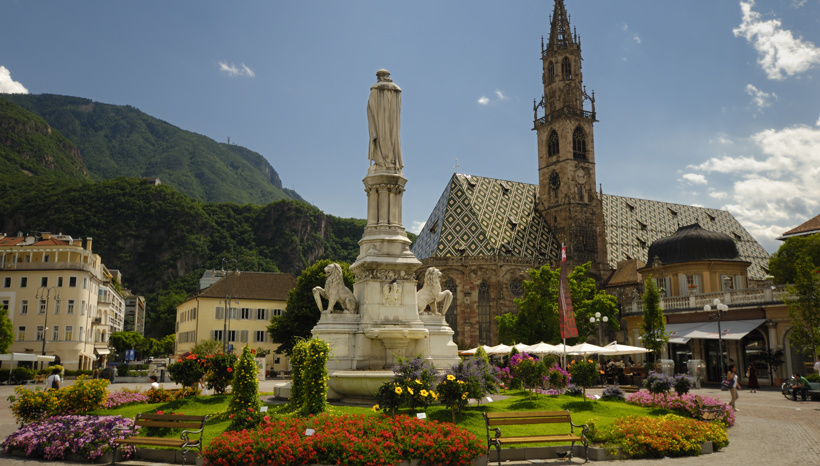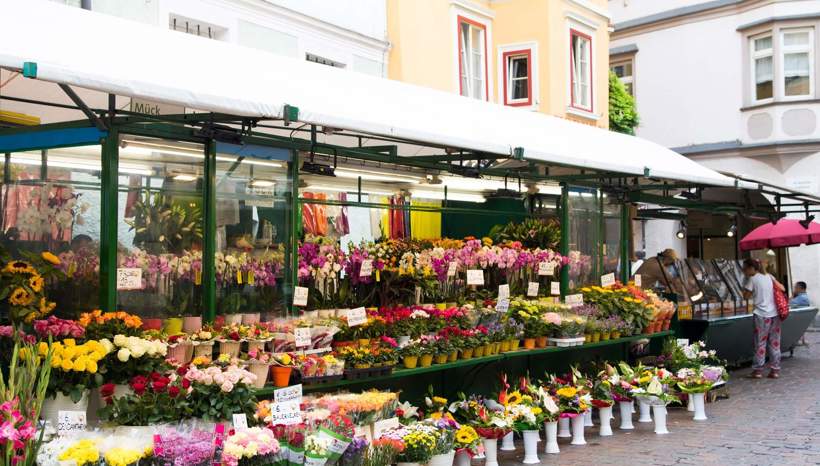 Selected accommodations in Bozen