Tradition and handicraft in Sarntal
Tradition and handicraft from Sarntal at its best! "Gschickt" is a term used in South Tyrolean dialect for saying "skilful", "talented" and "practical-minded".
In fact, these are the traits of the six craftsmen from Sarntal that stretches northwards from Bozen. They founded an association called "Sarner Gschick" in order to promote their products as a group. The wood carver Isak Runggaldier, the embroiderers Georg and Ulrich Thaler, the wood turner Fritz Unterkalmsteiner, the weaver Albert Unterweger, the goldsmith Bernhard Mair and the stonemason Tobias Nussbaumer all represent natural craftmanship dealing with different types of materials.
Wood carving passion
Isak Runggaldier says about woodcarving that it is the art of conforming to the piece of wood and to create a complete sculpture out of it. Runggaldier comes from Gröden, a valley that is the home of woodcarvers. In his workshop, he carves all types of sculptures such as representations of the Madonna, crosses and family crests on request.
Further information: info@bildhauerei.com
Costumes and tradition are part of our culture
Under the technique of "embroidery with a quill pen", many of us do not precisely know what this actually is. If you, however, think about the different costumes worn by musicians or the Schützen, you can see the elaborate belts and you will instantly know what it is about. Embroidering is done with a peacock quill pen. The origins of this craft can be found in the valley of Sarntal. The brothers Georg and Ulrich Thaler have learned this craft by their father Johann, who himself learned it from his father too. What once were only elaborate belts and shoes, the brothers today realise wallets of all kinds, belts., braces for leather trousers, key chains and photo albums with embroidered details.
Further information: info@federkielstickerei.com
Wood as living history
Fritz Unterkalmsteiner is a wood turning master, who founded his business in 1987. He continues to realise elaborate vases, old farmer's furniture, rung and staircases, lamps and chandeliers made of different woods from Sarntal.
Further information: info@drechslerei-fritz.com
Sheep wool, a gift by nature
The sheep from Sarntal are grazing on steep meadows and their precious wool is processed by Albert Unterweger following a centuries-old tradition and as it has done his grandmother. The wool grease Lanolin is preserved, threads are made of the fleece manually with the spinning wheel. Afterwards, Unterweger produces cuddly beds, carpets or warm socks. In his workshop in Sarntal, Unterweger will be pleased to welcome visitors and on request, you can watch him process the sheep wool from Sarntal or tanning sheepskin.
Further information: info@unterweger.bz
Elaborate gold works
Bernhard Mair is a goldsmith realising his works with precision and dedication, high-quality materials and with an exclusive design. The goldsmith will be pleased to respond to his customer's wishes, as he loves creating individual pieces. Quality satisfying the highest demands and an appropriate value for money are very important for Bernhard Mair.
Further information: info@sarnergoldschmiede.com
Special objects made of natural stone
The stonemason Tobias Nussbaumer creates special objects from natural stone from the region. The wine coolers, stone chandeliers, washing basins or as well bath tubs are characterised by authenticity, personality and resistance. On request, he realises individual ideas, artworks or sculptures too.
Further information: info@steinobjekte.com
Images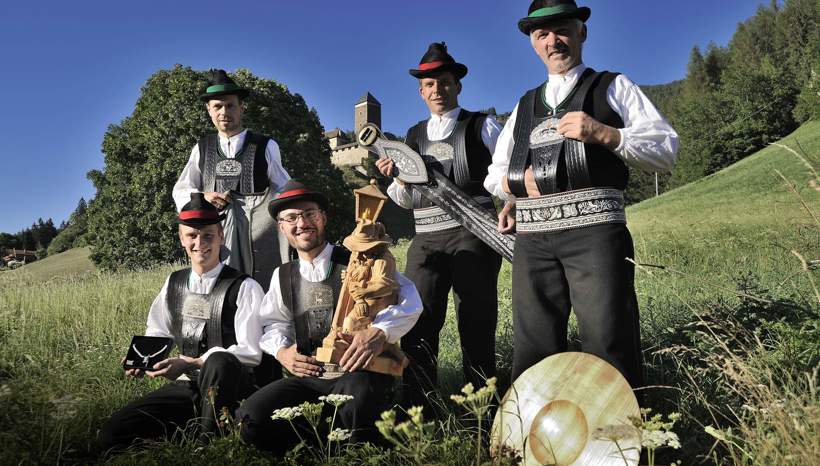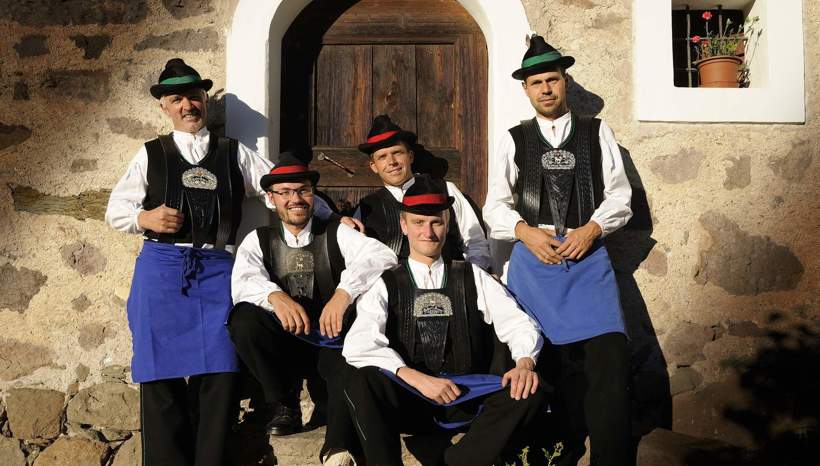 Selected accommodations in Sarntal