Tobogganing fun in South Tyrol
In its snowy mountain landscape, South Tyrol offers a colourful variety of great toboggan runs – from long to short, from rapid to moderate. Romantics will love moonlight tobogganing; nature lovers will prefer natural toboggan runs far away from slopes and lift facilities and families will look forward to slightly ascending toboggan runs.
Especially in Eisacktal, in Pustertal and in Tauferer Ahrntal, tobogganing has a very long tradition and the variety of toboggan runs is correspondingly large. However, there are varied possibilities for tobogganers also in other regions of South Tyrol. On particular evenings during the week, several toboggan runs are even lit and the huts are open for moonlight tobogganers too.
For many people, tobogganing without having to ascend on foot is only half the fun. Others prefer toboggan runs in the ski areas, where it is possible to reach the start of the toboggan run by cable car. Frequently at the valley station, in a hut or in a shop for sports equipment, you can rent toboggans against payment.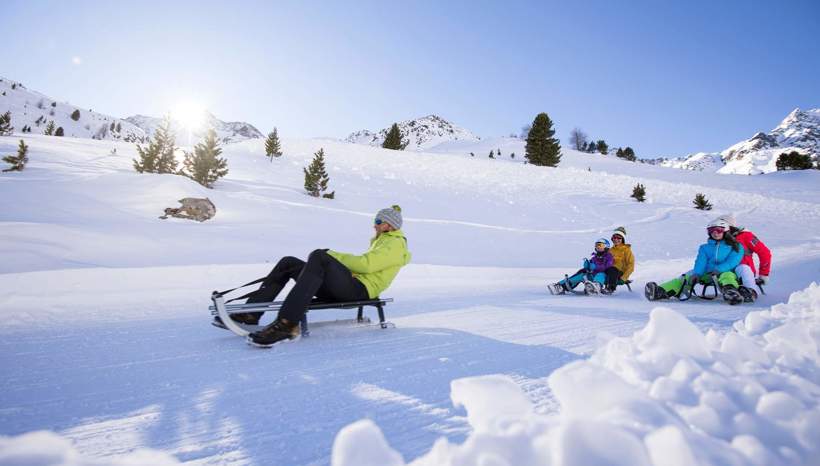 Family-friendly toboggan runs
A tobogganing tour is a wonderful adventure for the whole family. Together, you will ascend snowy paths, make guessing games whose traces you can see in the snow and relax in a cosy hut afterwards. Small kids can be torn on the sleighs, while bigger kids prefer pulling up the sleighs by themselves.
Short, relatively flat and secured – this how the toboggan run should be for a family excursion. These runs can be found all over South Tyrol and some of them even habe a toboggan rental and lifts helping you to ascend: For instance:
Dolomites: on Mt. Haunold in Innichen, in Obereggen (Epircher-Laner Alm) and in Welschnofen
Eisacktal: in Villnöss near Gampenalm hut, in upper Ridnaun valley near Stadlalm and Waldeben in Jaufental
Kronplatz: near Lercher Alm in Oerwielenbach, near Moarhof Alm in Hofern and near Pertiger Alm in Terenten
Meran and environs: toboggan run Lazaun in Kurzras in Schnals and family toboggan run in Pfelders
Tauferer Ahrntal: in Weißenbach and in Luttach to Schwarzbachalm hut
Vinschgau: in near Watles top station and in Reschen near Valliereck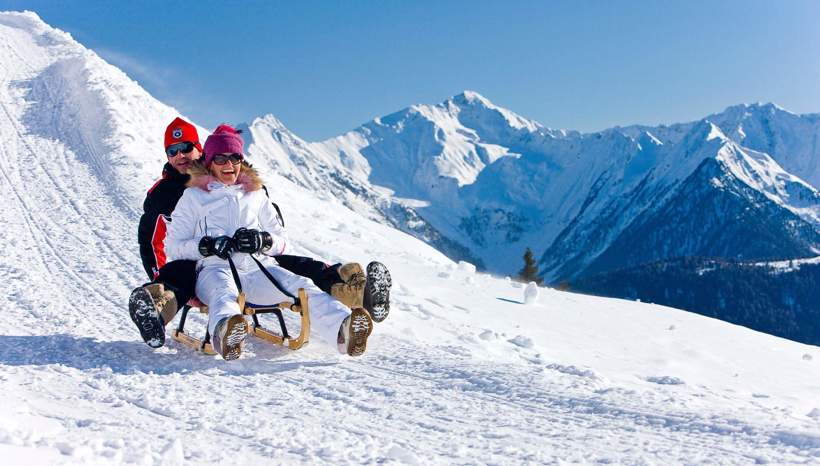 South Tyrol's longest toboggan runs
Families with kids will also have fun on short runs. However, there the longest toboggan runs in South Tyrol too, for those who cannot get enough of descending with their sleighs:
On Mt. Rosskopf in Sterzing
At Plose ski area near Brixen (due to the construction of the new cable car, it will not reopen until December 2023)
At Speikboden next to Sand in Taufers
All of them can be reached by cableway and offers descents with 9 or 10 km.
Security tips for tobogganers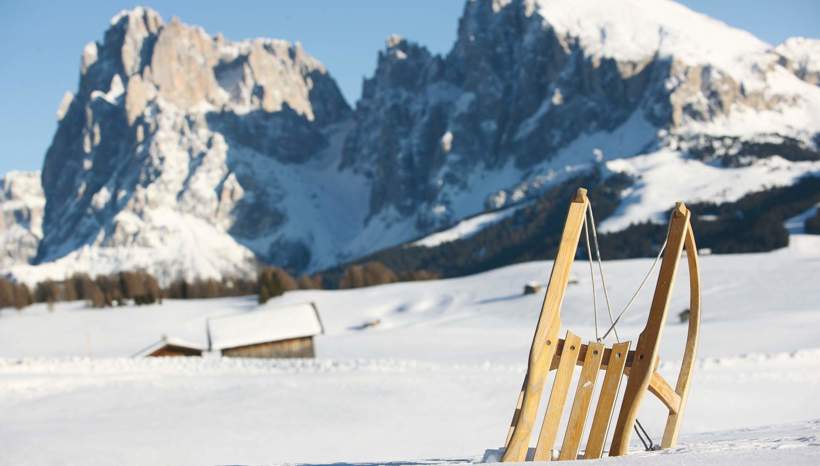 Tobogganing is a perfect winter sport for all ages and is getting more and more popular. To make sure that you have a lot of fun during a toboggan rider, you should consider a few simple rules – as tobogganing is a fast sport as well. Special caution is required for moonlight tobogganing, in poor visibility conditions and on slippery positions on the toboggan run.
Mutual consideration: Make sure that you do not injure other people! Many toboggan runs have the same tracks for ascent and descent, which is additionally used by winter hikers and ski mountaineers too.
Ascent on the right side: Please ascend on the right and one after the other in order to avoid collisions.
Stop and cross only at clearly laid out spots! Make sure looking down and up that the road ahead is clear before proceeding! In case of a fall, the toboggan run must be left as quickly as possible.
Control of the toboggan: Drive by sight and keep enough distance to the others! Controlled descending implies that speed and driving are adapted to skills, weather, traffic density and the conditions of the toboggan run. Be ready to brake at all times.
Appropriate equipment: In addition to warm clothes and solid shoes (treaded sole), a helmet (for skiing or biking) is recommended particularly for kids. The toboggan itself should be of good quality; plastic bobs are not made for toboggan runs.
Current information about the toboggan run: Get informed about the route and conditions of the toboggan run and make sure that the track is open for tobogganing.
Do not descend on ski runs: A ski runs is no place for tobogganers! The risk of collisions with skiers is too big and many ski slopes are too steep for sleighs.
Tobogganing with kids: Kids can toboggan by themselves only if they are able to control the toboggan, to brake and guide. Inexperienced tobogganers should as well practise braking and guiding in advance.
Selected accommodations in South Tyrol