Our tip in autumn: Törggelen in South Tyrol
The typical harvest tradition "Törggelen" is more than a tasty meal in a rustic inn or restaurant. The classical "Törggelen" combines a pleasant walk with a stop at a wine farm or at a typical inn.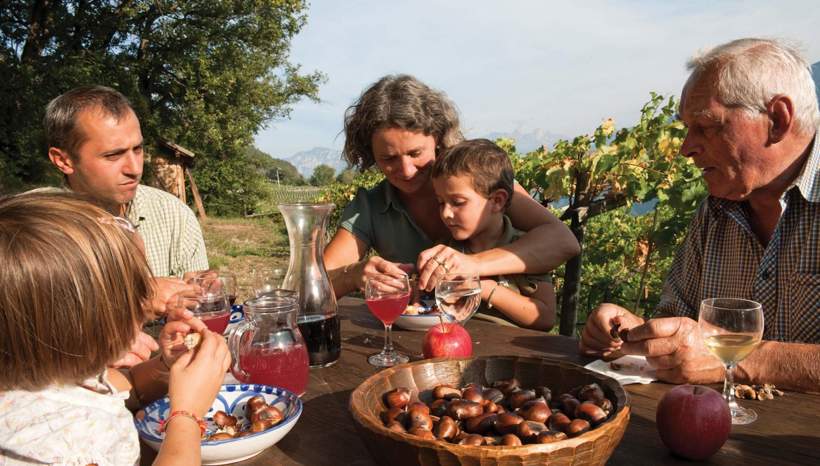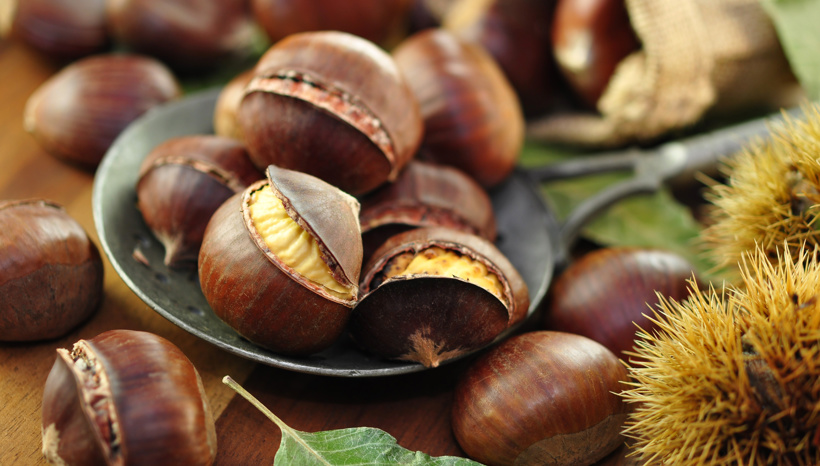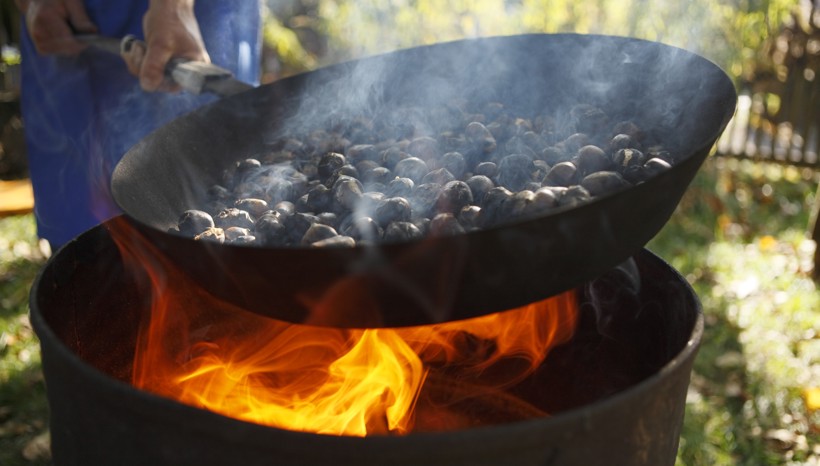 Autumn is the season of pleasure: wine growers present their new wines, the chestnuts slip out of their prickly mantle and finally in the farm bars they celebrate the traditional harvest evenings named Törggelen.
The harvest evenings take place above all in the South Tyrolean farm bars, under the shadow of grape-vines or in lovely and ancient snuggeries. Meran and environs, Bozen and environs and Eisacktal are the traditional Törggele regions in South Tyrol.
Below, you will find some of the nicest excursions respectively inns and local wine producers with a vast range of harvest and autumnal offers.
Tip 1: Gummerer Hof
Starting point: town center of Tramin
Length of the hike: about 1 hour
The world famous wine village Tramin in the holiday region Bozen and environs is the starting point for this wine tasting excursion. Despite its frightening name, the valley Höllental (hell valley), where the path runs along, isn't scary at all, but offers breathtaking views. The way goes from Tramin to the St. Jakob's church in Kastellaz and proceeds along a mountain stream, passing the castle Rechenthal and then going uphill through the vineyards. When you arrive at the main road, you follow the way to Gummerer Hof on the right. This inn is a typical wine farm with two lovely snuggeries and a partly covered terrace.
Tip 2: Huber in Pardell
Starting point: town centre of Klausen
Length of the hike: about 1 hour
The effort which is necessary for the quite hard pathway uphill from the centre of Klausen will be rewarded not only with a wonderful view to the monastery Säben, but also with a tasty break at the rustic inn Huber in Pardell, one of the well-known places in Eisacktal. From Klausen you have to walk uphill along the path of Säben, passing the castle Branzoll and proceeding to the monastery. Then you follow the route number 1 on the left and go on towards Pardell.
Tip 3: Wieser near Eppan
Starting point: St. Pauls
Length of the hike: about 3 hours
A relative long hiking trail leads from St. Pauls – a district of Eppan – to the inn Wieser, surrounded by green fields. The hike is really worth the effort and the pathway is quite pleasant, leading through the vineyards and a romantic scenery, passing several wonderful castles. The hiking path with the number 9 starts in St. Pauls and leads toward Missian, the elegant castle Korb and the ruins Boymont. The way proceeds to castle Eppan, through the forest to the district Perdonig and to the inn Wieser, which is a beautifully located farm with a spacious garden and a typical rustic snuggery.
Popular accommodation in South Tyrol