Ski touring in South Tyrol
There are now many South Tyroleans (and visitors) who wait all year for winter and snow to finally get back on their skis and experience adventurous ski tours.
White slopes as far as the eye can see. Peace and quiet, feeling the closeness of nature and the fulfilment of standing alone at the summit and looking far across the countryside: Ski tours promise absolute harmony with nature and wonderful skiing experiences await off-piste. However, it is essential to bear in mind: Good equipment, fitness, comprehensive planning of the tour, recognition of natural dangers and respect for nature and wildlife are a must.
South Tyrol is a perfect place for ski tours. On the southern side of the Alps, there is enough snow for beautiful tours all winter long. The Ortler region, the Alps and, of course, the Dolomites are a paradise for ski tourers - until well into spring. The best ski tours can be made around the beginning of March, when the cold, clear nights provide firn snow. But here, too, the rule is: Be careful and start early, because the avalanche danger increases during the day.
Checklist for the ski touring backpack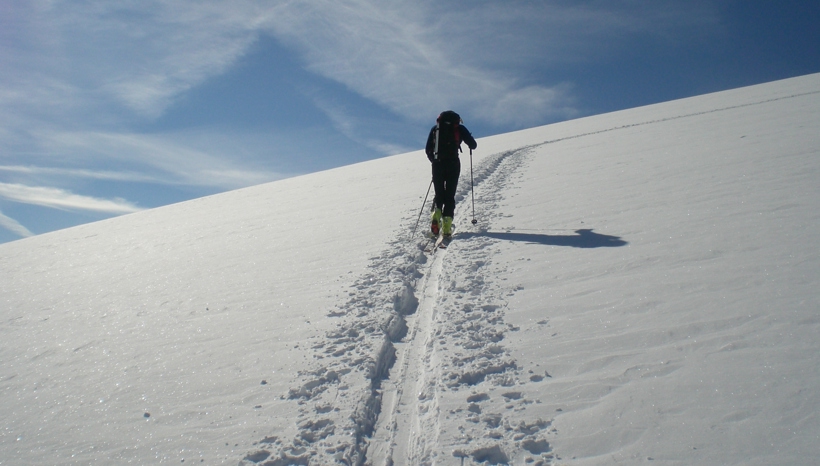 What should I pack when I start for a ski tour? You should definitely pack some basics to avoid unpleasant surprises:
Avalanche shovel and probe: The avalanche transceiver is to be worn directly on the body - the shovel and probe should be in your backpack.
Map and tour description: You are not always on familiar terrain and often there are no sign-posted paths. Always carry maps with you for better orientation. This way you can also follow the avalanche report (consulted beforehand) on the map.
Crampons: The ascent can be quite unpleasantly slippery on hard or icy ground. So be sure to take crampons with you!
Ski goggles and sunglasses: The sun is very powerful even in winter. Sunglasses are recommended for the ascent, good ski goggles for the descent. 
Sun cream: The same applies to the skin. Sun cream with a high sun protection factor is an absolute must in every touring backpack.
Beverages: At least 1 litre of tea or juice with water per person. If the tour is long, take accordingly more to drink.
Food: Ascent and descent require strength. Dried fruit, bars or nut chocolates are recommended as a snack. For the summit rest, we recommend a tasty sandwich.
Change of clothes: Be sure to change sweaty clothes on the summit to avoid getting chilled. A second pair of gloves is always a good idea.
Protecting wildlife during a ski tour
Winters with heavy snow are a special challenge for the wild animals of the South Tyrolean mountains. They live largely on the reserves they have eaten during the warm season and are dependent on peace and quiet. If they are disturbed or startled by ski tourers, life-threatening situations can arise for the animals.
Selected accommodations in South Tyrol