Hiking tours with your dog
If you decide to spend your holiday in South Tyrol together with your dog, we have some recommendations for you, including dog-friendly excursions.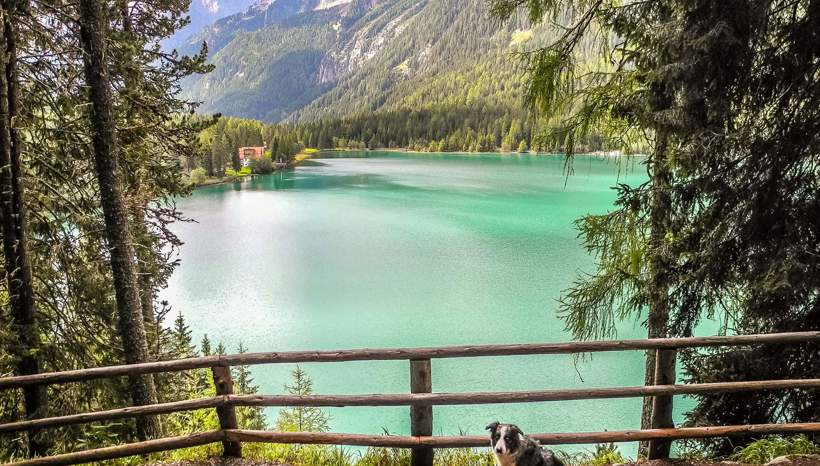 For a summer and hiking holiday accompanied by your dog we primarily propose the valley Tauferer Ahrntal, because it is a holiday area with much place and above all with much water for your dog. The advantages for dog and owners are obvious: Thanks to the numerous mountain streams and clear lakes, you don't have to drag water reserves for you both.
Winter hikes with your dog
When the first snow has fallen, dogs love to play in the snow. If you would like to take your dog on a hike, you should pay attention to a few things. For instance, dogs sink into the snow and  get tired quickly. As well, they get clumps of ice on their paws, which are hurting them, You can rub the paws with deer tallow cream or with vaseline. Sometimes, the dogs remove the clumps by themselves. After the hike, you should not leave the dog in a cold room, but give him the possibility to get dry in a warm ambiance.
Winter hiking tip for you and your dog
To Mt. Strudelkof in Fanes-Sennes-Prags Nature Park
Arrival: from Pustertal to Prags Valley, Brückele and to the car parking of Plätzwiese pasture
Tour description: cosy hike to Dürrenstein hut, where the ascent to Mt. Strudelkopf begins (path no. 34)
Tour data: total time of ascent about 3 hours, 300 m of height difference, several huts on the way
Selected accommodations in South Tyrol